6 - 9 months
BSc student
Eindhoven
The assignment is to develop a sterile blood bioreactor that allows blood circulation for extended periods, aiming to prevent coagulation and hemolysis, in order to test various devices and technologies for the development of a portable dialyzer to improve the lives of kidney patients.
Project description
In NXTGEN HighTech a large community of industry and academia will develop a portable dialyzer within 7 years, to reduce the enormous impact on the life of kidney patients that are required to dialyze 3-4 times a week in a hospital setting. An important part of this impactful consortium will be the development of in line, miniaturized, sensors to determine all kinds of blood related functionalities. To test all these separate developments before implementing them in the final product a clinical relevant environment needs to be created. 
In this assignment we ask the student to develop a sterile blood bioreactor, where the blood can circulate at least 2 days, and preferably a week. The goal is also to have the blood circulating and by design prevent coagulation and hemolysis, so we can reduce the amount of additives as much as possible. The design of this bioreactor is also dependent on the devices (e.g. inline sensors, vascular grafts) that will be tested in this bioreactor, adding another dimension of constraints to the design. LifeTec Group already has great experience and knowledge on blood quality with several ex vivo blood perfused organ platforms. For the ex vivo platforms it is also of great importance to maintain blood quality at the right level, to allow for long perfusion times, which is relevant in the field of transplantation and regenerative medicine for example.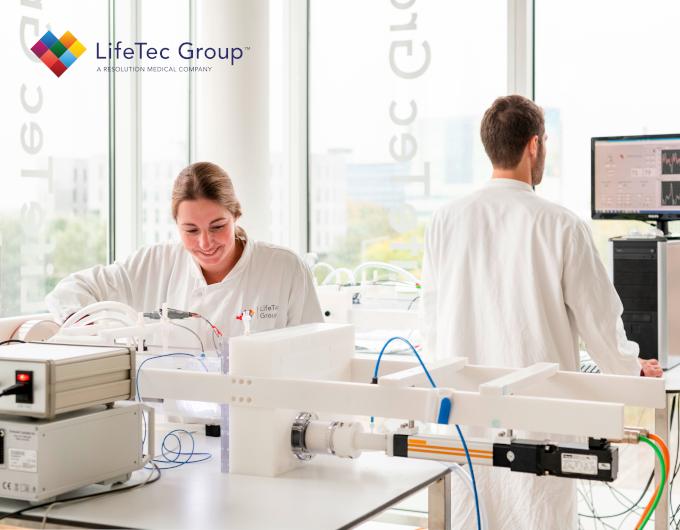 About you
You have a biomedical engineering background, with some design affinity.
Experience with CAD (or other design program) 
Hands-on 
Communicative
Team player
You are not hesitant to work with biological material (blood, tissue, organs)
You will be responsible for
Defining requirements of the blood bioreactor together with the LifeTec team and consortium partners
Building, assembling and testing the environment 
Data analysis
Report and present results
Learning opportunities
Designing, developing and testing a new tool in the biomedical field
Working in a scientific consortium
Project planning tools
Insights on ex vivo perfusion experiments 
Teamwork in an open minded company
LifeTec Group
We are a young and international company dedicated to helping MedTech companies bring the best devices to the patients as soon and as safely as possible. The company core activities are performing preclinical contract research and developing and facilitating platforms in which medical devices or new techniques can be tested or physicians can be trained on, using animal organs from the slaughterhouse. The total platform results in a set up to be as lifelike and as close to the clinical setting as possible. Testing on these platforms can minimize animal testing and serves as a step bridging the gap between the in vitro and the in vivo testing. We are a team of pioneers that think in possibilities and are always there to help each other and collaborate.
Contact: internships@lifetecgroup.com