The Quest
Regulatory heart valve testing appears to be a straightforward procedure, but this could not be further from the truth. In regulatory heart valve testing, the focus of the test is very much on generating reproducible results in a standardized test environment. However, the true performance of a valve is also very much influenced by the test environment and therefore translating results on valve performance from the standardized equipment to in-vivo situations is not trivial. To obtain relevant preclinical results about the performance of your artificial heart valve product, you need a realistic testing environment that resembles the in-vivo situation, and can be tuned specifically to be able to cope with your specific product characteristics.
The Platform
LifeTec Group's heart valve assessment platforms are versatile, able to assess the functioning of heart valve prostheses of different sizes and for different locations in the heart, right or left. The systems allow for accurate and validated hydrodynamic testing of performance and durability according to ISO guidelines. The platforms produce realistic pressure and flow dynamics and are fitted with high-speed camera equipment to accurately assess valve efficiency and overall performance. Whether your heart valve replacement product is regenerative medicine-born, of biological origin or mechanical, LifeTec Group's valve testing platforms can be used to accurately evaluate them. One major advantage of LifeTec Group's heart valve assessment platform is that it is modular and customizable, and this enables us to re-create specific anatomical features, bespoke valve implantation structures, loading conditions, delivery pathways, and reconfigure the system's layout to allow clinical imaging modalities to be used.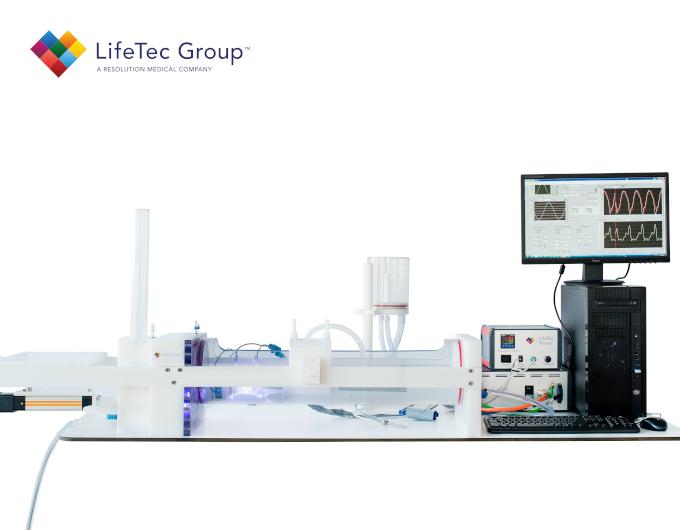 During all stages of design and preclinical testing our expert personnel can give you suggestions on effective modifications based on the experience and results obtained with the valve testers. This enables you to identify potential mishaps early on, thereby significantly reducing the risk further down the preclinical path. Subsequent experiments with LifeTec Group's Cardiac Biosimulator or PhysioHeart  platforms provide the complete portfolio for relevant preclinical testing of your valve prosthesis as well as the training facilities to instruct your future users.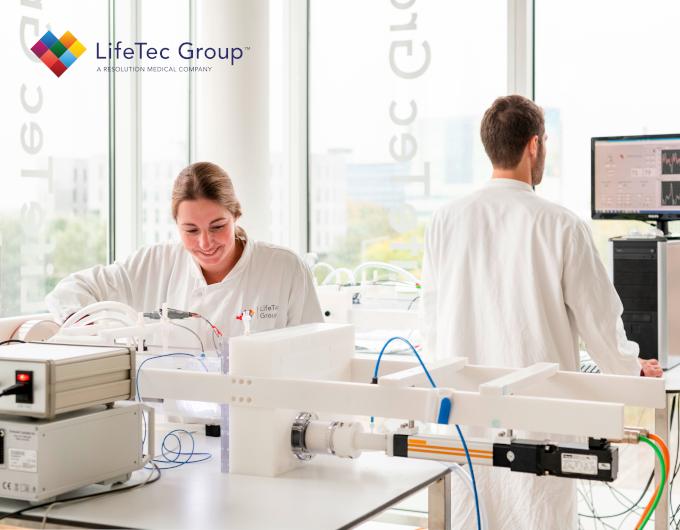 Valve testing introduction video
Further Testing
Test platforms and simulators are great tools to use during early R&D stages for heart valve concepts. It is important to be aware that every test platform has it's specific strengths and capabilities, but inherently also it's specific limitations. There is no single test platform that provides the opportunity to test for all aspects of a medical device. The team at LifeTec Group is very knowledgeable and can provide excellent advice on how to use different approaches for specific research questions and several different cardiac platforms have been developed to be able to offer a wide range of assessments. The Heart Valve Assessment platform is a great starting point for specific, accurate and reproducible performance assessement. Subsequently, LifeTec Group's Cardiac Biosimulator or PhysioHeart platforms use real cardiac tissues to increase testing realism on valve performance but also the delivery and deployment  procedures, as well as valve repair and reshaping therapies. As such, LifeTec Group can provide a complete portfolio for relevant preclinical testing of your valve prosthesis to be very well prepared for long term animal studies, as well as the training facilities to train your future clinical users.
Download the Factsheet
Interested in more information about our Heart Valve Assessment Platform? Please download our Factsheet!
Services
Pragmatic engineers: that's what our clients, medical specialists and fellow researchers sometimes call us. We are proud of this reputation as it tells you a great deal about the company and its people