Ultrasound innovation
Ultrasound (US) imaging is very commonly used to assess cardiac disease by assessing the geometry and function of the heart. Ultrasound imaging is a great tool for this, utilizing its high spatial and temporal resolution as well as it's ease of use. However, as any imaging modality, also ultrasound imaging still has some drawbacks because of physical constraints, including limited field-of-view, refraction, resolution and contrast anisotropy.
For many years, the Photoacoustics & Ultrasound Laboratory (PULS/e) of the BioMedical Engineering faculty at the Eindhoven University of Technology is working on imaging innovations. For this particular research paper, the PhysioHeart platform was usedat LifeTec Group to demonstrate the new imaging method on actual living hearts.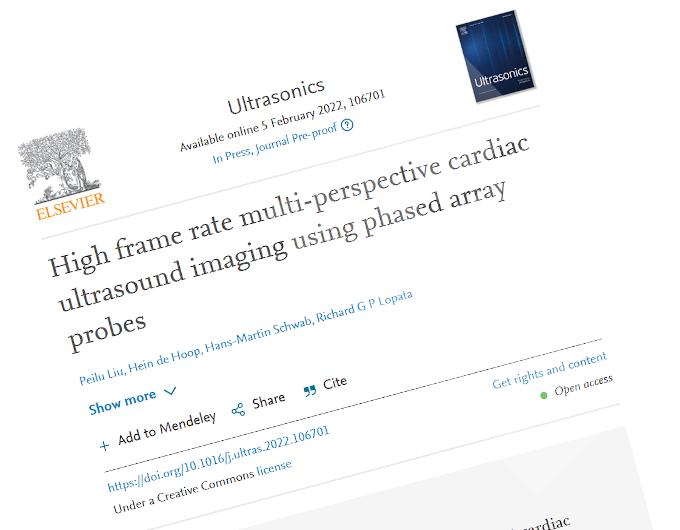 Combining multiple images
To overcome the shortcomings of using a single ultrasound probe, the aim was to combine the images of multiple probes to improve on the image quality as well as the field of view. The difficulty is to ensure that these probes - in this study two probes were used - are all looking at the same volume. To ensure this, a special mount was developed to hold the probes in a fixed position placed around the isolated heart platform. Both probes were used to record interleaved long-axis views of the PhysioHeart at 170 images per second under 11 angles.
Furthermore, image registration and fusion algorithms were developed to align and fuse the US images from two different probes. Combining these techniques with the fast imaging of multiple probes revealed enlarged field-of-view, and improved image contrast and resolution of cardiac images. Future work will focus on validating this technique to improve functional measurements, e.g., cardiac strain imaging, in 2-D and 3-D, and extending this method for right ventricular imaging.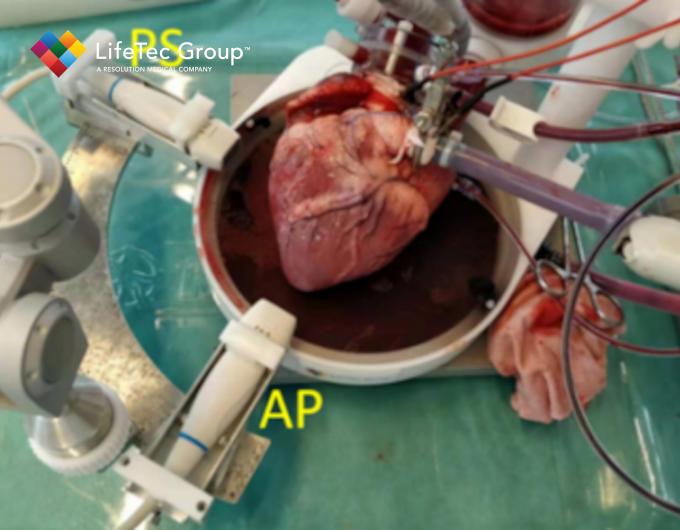 High frame rate multi-perspective cardiac ultrasound imaging using phased array probes
Peilu Liu, et al
ULTRASONICS, 2022, 106701
What is in it for you?
The PhysioHeart™ platform is a great tool to assess new devices and techniques without having to resort to animal experimentation or patient studies in an early phase, but can still provide a very clinically relevant environment without any risks to the subject and without any ethical burden. In that context, LifeTec Group can support any of such R&D projects by providing the readily available ex-vivo platform technology, or adapt it to your specific needs. Our team is there to be used as an extension to yours, where we ensure that the test environment is functioning - allowing your team to fully focus on your device innovation, procedure, or technique. Would you like to know what PhysioHeart™ could mean for your project? Feel free to reach out to our team!
Get in Touch with us
Interested in more about what we do at LifeTec Group? Contact us!
Call at +31 40 2989393 Or e-mail us